Chicago Digital Marketing Services and Custom Web Design for 2023
The Chicago Web Factory Difference
Affordable responsive website design and development

Super fast customer service (You call us today, and your issue will be handled right away, you won't be put in a queue to wait and hear from us in 5-7 days)

Proactive, not reactive (You won't hear from us only when it's time to pay or when there's an issue we are always monitoring your account and strategizing on ways to make your business more profitable, just ask our current clients)

Specializing in getting you ranked locally (Google, Yahoo, Bing, Yelp, etc)

Experience working in competitive niches all across Chicagoland
Ecommerce is growing at an eye-popping rate. Statistics suggest that many online selling platforms have more than doubled their number of users in the two years since the onset of the pandemic. However, with great opportunity comes increased competition, as the explosion has brought with it a bevy of new online businesses. This creates challenges[...]
It's more and more common for businesses listed on Google to complain about reviews not being published when customers post them. Joy Hawkins wrote an article that could explain why this happens. One of two things is happening: Either Google has removed them manually because they don't follow the guidelines (not likely), or Google's automated[...]
Small businesses, especially those with a physical location serving a local community, may underestimate the importance of an excellent online reputation. You are not looking for nationwide or worldwide customers, so what's the big deal?Considering that 82% of online searchers follow up with an in-store visit, it is clear that local customers are using the[...]
From your business's beginning, you're cultivating a reputation to uphold. Your social media posts, website content, interactions with clients, and services provided to customers all contribute to that reputation, and the more you build upon it, the more likely it'll stick in the minds of everyone who knows about you. All of that combines into[...]
Contact Us for Chicago Digital Marketing & Website Design
A Guide to Website Design and Digital Marketing for Small Businesses
As most physical businesses transition to the online world, many remain skeptical. Some are convinced that there's no much difference, and others are scared of competition. The good thing about the internet is that there's room for everyone to excel.
In this article, we'll go through Chicago website design and digital marketing for your knowledge. There's so much to learn aside from what is covered, so this isn't an extensive guide. Each aspect is a subject on its own. But with this guide, you'll have an idea of what digital marketing entails and why you should consider it for your business.
The first most important step is to create a website for your business. This platform will fully define you, your core values and help you stem into other online platforms with ease.
Website Design
The debate on whether having a website is necessary for online businesses has been carried on for years now, with some business owners convinced that they don't need to have one, for a social media profile is enough for their business.
At the same time, some brick-and-mortar businesses also feel like they don't need a website or even an online presence since they operate physically on the ground.
Unfortunately, both are wrong. Yes, they could be making sales in their current situation, but they don't know that a website can help them reach greater heights. Additionally, a website is the basis of digital marketing – every other platform is secondary to this. Without it, your sales funnel may not be as efficient as it should be.
Do I Really Need a Website for My Small Business?
If you're unsure whether you need a website, here are 12 benefits of having a business website.
1. Full control of your page
Third parties own social media platforms. This means that the platform will have features that this third owner pleases. For example, if Zuckerberg decided to get rid of a Facebook feature, you'll really have no say in it. And if it was a feature that you relied on, then you're doomed!
However, when you have a website, you can use plugins to enhance functionality; and even if the plugins go out of the market, you can always code the functionalities or integrate other software. You can't integrate apps with social media platforms. You can only work with what they give you.
Another angle is the algorithm. Nowadays, only about 10% of your followers see your posts daily. To get the rest to see your posts, you may have to advertise. The algorithm changes over time, and you have zero control over it. But your website functionality and effectiveness are controlled by you. This means that you upgrade it to suit your business needs and increase your sales.
2. It's part of your branding kit
When creating branding kits, you'll look into business cards, brochures, stationery branding like mugs, diaries, and so forth. What you forget is that your website can work as part of your branding.
Having a website and including your brand logo and color themes makes this platform resemble your company style. Prospects can spot your brand from a mile away and immediately recognize it.
Let's take a quick example. Imagine handing over mugs, pens, and table cloths with your logo on them. This is good marketing. But if someone who doesn't know about your business sees these branded items, they have no way of learning about your company unless they physically visit your office.
Sometimes the delay between seeing the branding and finding your office may make them distracted by other things or other brands. But if you have your domain written under your logo or slogan, such as 'maccheese.com,' then an interested party will be able to immediately look it up on their phones and learn more about you. This gives them a chance to decide on the spot whether or not they need your services without distraction from your competitors or other activities. With this, your brand is sealed in their memories. A pretty branded cup can be forgotten within 5 minutes of seeing it.
3. You get to provide extensive information about your business
Who better to give details of your business other than you. Take that chance. On Facebook, Instagram, Pinterest, and other platforms like Twitter, you get very limited space to discuss your brand.
A three-sentence description doesn't sell. It'll give prospects an idea, but before they decide to invest in your services, they'll need to know more. With your website, you can have several pages discussing several aspects of your business. You can showcase your portfolio and your team members, talk about your mission and vision and guide people in so many ways.
4. Credibility
All high-profile legitimate businesses have a website. When your company wants to carry out certain activities like charity campaigns, job recruitment, and product selling, people will need to be assured that your business is real and on the map. How better to convince them than to have a website?
A website is like a virtual office. An office or warehouse demonstrates legitimacy. When everyone else has it, you look like a joke to prospects for not having one. If someone walked up to you with a briefcase and a clean suit and asked you to buy their service, won't you need to know where their offices are?
Whenever I'd look for services online and see a business with no website, I'd always think they are cons. Because "why would you not have a website like every other legit business?" I wouldn't even consider working with you. Fortunately or unfortunately, most people have this mentality.
5. It's a tech-savvy world; get on board!
As mentioned earlier, masses determine the standards of business. So if the masses have websites, then you ought to jump on that train.
It's a tech-savvy world. Everyone is trying to be as savvy as possible, and so should you. Get on board for the sake of your customers.
6. Your business works for you
In 'Rich Dad Poor Dad,' Robert Kiyosaki defined success and wealth as having money working for you. By this, he meant that your business is running without you having to steer it manually.
Now picture this: you have a website with an e-commerce store, and you're offering worldwide shipping. It's late at night, and you head to bed. Someone in a different timezone just woke up and decided they want to buy and ship your product to their country. This person won't have to wait for you to wake up or travel to your country to purchase.
An e-commerce store eliminates all that madness. All they'll need is a device, an internet connection, and their legs on the couch. As you sleep and as the doors to your store remain closed, your money is still incoming, and you get to wake up richer than yesterday. Now that's the definition of money working for you.
7. It's your conversion point
How are you effectively converting clients without a website? While social media platforms are becoming quite diverse with their features, a website remains the ultimate business platform representing your company online.
A website easily converts customers for you. The banners and copy filling your site on different pages are what prospects see and convince them to purchase. If your site has all the good information, then prospects will become clients.
Most of them land on your site through search engine searches which I've previously discussed can't be possible without website optimized content. Others get to your site through an online ad. For the latter, they are redirected to your landing page. There's no need to have a landing page without a complete website.
As they browse your site, they may have questions. This is where your contacts page and details come in handy. You can also integrate a live chat, so that client queries are responded to immediately.
There are different types of conversions. You may want to get subscribers, sales, or sign-ups for a webinar. The website pop-ups will help with these. Have the right call to action buttons, and your prospects will take each step to the final.
What are the six elements of a good website design?
Our Chicago website design experts say that having a website is not the goal. The goal is to have an optimized, functional, and interactive website. If you're wondering what it means to have a non-functional website, the answer is simple: a website that doesn't work.
To cut a long story short, here's what makes a good website in 2021.
1. Page speed
Unfortunately, internet users are as impatient as a twitching eye. They can only wait for a few seconds and click out if your website page doesn't load. So how fast should your website pages load?
According to Google, your website pages should fully load within three seconds. Our designers, however, target a quick second or two at most. This applies to mobile applications as well.
Bounce rate, which is the rate of people clicking out of your page after a few seconds, increases with a slow page speed. This means that the prospect doesn't get the chance to see whatever good offers or services you have.
2. Good design and simplicity
The human eye is highly attracted to beautiful things. If you walk into a room, the first thing that you'll notice are things with popping colors, right? Conspicuous things would attract you as well.
This is the same concept as websites. You can't afford to have a dull website. Your website should feature at least two different colors, readable fonts and font sizes, images, videos, slides, and section designs on each page.
But, hold on, don't go wild and create a mess. No one is looking to declutter your web pages! Keep it simple, attractive and include a lot of white space.
3. Navigability
Having a navigable website means that users can move from one section to the next and one page to the next with minimum to zero hustle. When I say minimum hustle, I mean a one-second scroll.
You can make your website navigable by using the following:
Call to actions (CTAs)
Page menus on sticky headers
Buttons
Social media icons for your social pages
Scroll up buttons
Pop-ups and many more
These website tools also help increase your conversion.
5. Trust elements
Trust elements are what you use to convince your prospects of your expertise. They may include:
A testimonial section
portfolio section or page
Links to online reviews on pages like Yelp or BBB
Text discussing your years of experience
A section displaying any business awards you may have, etc.
Never shy from showing off your achievements. If your product achieves a certain goal, such as leaving the toilet sparkling, or helping people lose weight, encourage buyers to take photos or videos of the before and after and use these to showcase effectiveness to your prospects.
6. Mobile responsiveness
Last but not least, your site should be mobile responsive. Ever clicked on a website on your phone or iPad and ended up scrolling so far to the left that you forget what you're reading?
A responsive website redesigns itself to fit the screen size of the user's device. This means that no matter which device your site is being accessed on, it'll be neat and only incorporate one scroll direction – downwards!
Digital Marketing
Since the internet came into existence in the 1960s, developers have made a point of making it better and coming up with tools that help bring information and services to people from the comfort of their houses.
That's why you need an online presence; because you can work from the comfort of your couch and deliver to people from the comfort of their couches. It's that simple.
The internet has definitely not affected brick-and-mortar businesses. It has just brought more opportunities to business owners. With the help of our Chicago digital marketing experts, you'll be able to launch your business online successfully.
Importance of Digital Marketing
Digital marketing helps your business with lead generation, capturing, and lead nurturing.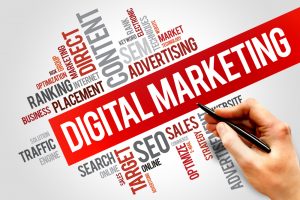 With over 4.5 billion current internet users, you can't afford to miss out on this massive market. This is the top reason to get your business online.
Online marketing helps your business go global. No one said you only need to serve local customers. If you ever consider opening your business to different locations globally, you can achieve this easily with an online presence.
Digital marketing is cheaper than traditional forms of marketing. You can promote a post on Facebook for only $5. Most ad providers allow you to set the amount you'd like for your ad campaigns which means you spend only what you can afford.
You can also integrate different platforms with the use of links. With this, you'll easily move your social media prospects to your website, where they make the purchase. If your goal is to get people to follow you on social media, you'll provide easy-access buttons where you have a new follower in one click.
With traditional marketing, you reach anyone and everyone. While this sounds lavish, it's not as effective. Why should you have hundreds of people watch your ads when they have zero interest in your product or service? When advertising online, you get to target your audience. This increases your chance of a conversion.
Several tools can help you track your online activity and performance. Knowing how your business is performing and what your customers are interested in will allow you to redefine your marketing efforts to shoot up ROI.
Search Engine Optimization (SEO)
Search Engine Optimization also referred to as SEO, is all about optimizing your online platforms to rank on search engines like Google, Yahoo, and Bing. Currently, the most popular search engine is Google, with trillions of searches yearly around the world.
But what's the point of ranking on search engines, you may ask?
There are gazillions of website pages online that a search engine has to crawl. With that much information in one space, search engines decided to filter websites and rank them depending on many factors. One of the factors includes the quality of information.
Now every time you search for something online, the results show up in order of quality information. Prospects mostly click on websites that show up on the first results page, and this is why you need to rank on search engines.
SEO brings you organic traffic, which means your traffic is coming from search results and not adverts. Organic traffic is good because the prospects are searching for your product or service. Hence, they may be ready to make a purchase. Unfortunately, paid traffic doesn't always purchase the spot; however, it's also good since ads follow your prospect around until the day they convert to buyers.
To rank on search engines, you need to use your industry keywords in every post and page. To find the relevant keywords, use tools such as Google Keyword Planner. or have one of our experts help you find the most popular keywords.
For website pages, the keywords may be similar. However, if you have a blog page, each post may require different keywords depending on the discussion topic.
Keywords should be applied in:
Your website and blog copy
Image alternate text (Alt)
Each page's meta description
Page or post titles and subheadings
Page URLs if possible, etc.
This, however, doesn't mean that you stuff your pages and posts with keywords. Spread them out evenly and use them as few as possible. Use more than one keyword so that you're able to rank for a variety of searches. Make sure the keywords are relevant to the service you offer.
Another SEO tool is link building. Linking to different pages on your website helps prospects stay on-site longer. Google notices this and assumes that you have good content to share all-around your site. Aside from internal links, you should link (posts only) to authoritative sites.
Linking to an authoritative site brings you closer to ranking. Additionally, it puts your brand on the eye line of the authority site, increasing their chance of linking back to you. If authority or high-ranking sites link back to you, Google will put you on top of its searches.
To learn more about SEO and SEM, check out our FAQs.
Social Media Marketing (SMM)
While social media platforms don't have as many users as the internet in general, they do have enough to woo a business into marketing with them. Facebook alone had about 2.7 billion active users in 2020.
There are so many social media accounts that you can leverage for your business. The most popular ones include:
Facebook
Instagram
Pinterest
LinkedIn
Twitter
TikTok
Snapchat
The platform you choose will depend on a couple of things, including your target audience and business type. For example, Instagram is a visual platform making it ideal for product companies. With Instagram, you can post images and videos to interact with your prospects.
To select the perfect social media platform for your business, survey to find out where your buyers spend most of their time. That's where you want to be spending yours as well.
It's not just about where they are but also about when they access the platforms. Assuming that your target audience is working, your ideal time could be either during their breaks, like lunchtime, or on the weekends.
Luckily, these platforms are now refining every user's ad experience and bringing them ads of things that they have recently searched.
To make the most out of social media, you need to be active with your business account. Post medium-length texts, high-quality graphics, post on stories for the platforms with that feature, and interact with your prospects in the comments section.
Do not bombard them with frequent posts; you'll end up getting more unfollows than conversions.
Be careful when responding to comments on social media, mostly negative comments. There's an art to it, discussed in this post. Otherwise, try and answer as many questions as you can and address as many queries as well. Take in compliments. Not all posts are complaints or questions. Some are compliments that will boost your business popularity.
Email Marketing
One secret about marketing your business online is getting personal. If you can reach customers using a personal means or a personal touch, then your conversion rates will be out of this world.
Email marketing does just that. It starts with collecting email addresses from customers and prospects. To collect email addresses effectively, have a pop-up on your website. You may also have a subscription box somewhere on your pages, mostly the home page.
Another way of collecting emails is by offering a valuable exchange. For example, you can offer a free eBook download once a prospect submits their email or subscribes to your newsletter, which is the same thing. When customers make purchases online or offline, they also request them to share their email addresses for occasional newsletters.
Once you've collected emails, the next step is to store them; and since it's impossible to be emailing everyone one by one, you'll need a good email marketing tool. Some reputable ones include:
MailChimp
Constant Contact
Klaviyo
GetResponse
These tools offer amazing features for your email marketing efforts. You can send emails with plain text, images, videos, and a combination of all three. You'll be able to send one email to everyone on your email list.
People constantly check their emails, whether on their phones or computers. Therefore, reaching out to them this way will feel more personal and directed at their needs. That said, don't spam their emails. Only send out emails when necessary, such as during the launch of a new product, product or service offers, or following up abandoned carts.
You should also occasionally send emails with tips for your product or those related to the customer needs to don't feel like all you care about is selling your products and services.
Sometimes people subscribe to your email list but later change their mind and want out. Every email you send to your subscribers must be accompanied by the option to subscribe. You may go further and give them options on what type of emails they'd like to receive from you. With that in mind, do not add email addresses to your subscriber list without the owner's consent.
Paid Advertisement
No matter how much you try, you won't be able to escape paid advertisements. Unfortunately, it's the easiest way to get your brand in front of new prospects. Let's face it; you can't just sell to the same people all through. Every business needs new customers every day.
There are so many paid avenues for advertising – some of which we will discuss individually in the next points. Here, we'll touch on social media ads and PPC.
Every social media platform offers the opportunity to advertise. There are a variety of ad options depending on the platform you'll be using. For example, Facebook provides ads of posts and pages in general. You may also advertise your website on Facebook. Find out what option your platform offers and use them to your advantage.
PPC, which stands for Pay Per Click, are ads offered by Google. As the name suggests, with PPC ads, you only pay when a prospect clicks on your ad banner. This doesn't mean that if no one clicks, then you won't get leads. No, you will. Some people – very few, but it happens – see your ad and browse for your website instead of clicking on the ad. But most times, a prospect will click on the ad.
This is different from social media ads, where you pay for the number of views you'd like to reach. So it's like predicting your reach other than paying for actual clicks. You can make both work for you, though.
An ad click doesn't determine conversion, but it's a step closer to it. As earlier mentioned, you need a landing page to act as a middleman between the ad banner and the conversion point: a product page or contacts page, or a subscription form.
This landing page is what determines conversion. If the copy you feature on your landing page is convincing and enticing to the prospect, then they'll definitely buy. Our copywriters know just the right words to woo clients to your business. Your ad banners should also contain attractive copy that hits the needs of the prospect. Use images and theme colors to capture their attention. You can also set up video ads for platforms such as YouTube or create gif ads as well. Mini animations are always fun to watch, right?
Online ads are inexpensive and very effective. You always get your advertisements to people interested in your service or product, so conversion gets to be high. Of course, there's a way of setting up ads to make them effective. Our ad experts will advise you accordingly.
Influencer Marketing
This is another form of advertising, but by using people as your ad tools. Influencers are popular people in a certain industry. Their popularity is brought about by constant content creation to either educate, inform people or both.
Influencers have thousands of followers and constant interactions on their social media pages and blogs. You need to tap into that crowd. However, you must pay the influencer to advertise your product.
Most times, brands send them free products for them to test. After which, they talk about your product to their loyal fans and encourage them to make a purchase, then you pay them for that.
Let's say you offer spa services; you'd call them over for a spa day and have them experience your expertise. They can take videos and photos to share their experience with their followers.
Choosing the right influencer is crucial, else you waste money on an ineffective ad move. Search for influencers in your industry. If you sell beauty products, search for beauty gurus with a good following and interaction.
You need them to get people talking about your product, so you can't hire an influencer with zero comments and a handful of likes on their posts. Someone that triggers discussions on their posts will most likely bring you customers.
To make it more enticing, you can offer the influencer(s) a discount code. Everybody loves offers and free things, mostly internet people!
Affiliate Marketing
The next best thing to influencer marketing is affiliate marketing. It works the same, though. Affiliates are usually bloggers and vloggers with thousands of readers of a specific niche.
The best affiliates to approach are those that do reviews on certain products or services. Say your business sells headphones. A headphone enthusiast has a following of similar headphone fanatics.
The good thing about fanatics is that they're always ready to make a purchase even when they haven't budgeted for it!
Affiliate marketing is simple. Your business gives this affiliate a code or an account within your website. The affiliate reviews your product or several products, including yours, and under your product, they add a link to your eCommerce store.
When a customer makes a purchase, the affiliate gets a commission and kudos to your business. So it's not so different from influencer marketing, only that influencers aren't paid commissions.
Content Marketing
Last, and probably your best shot, is the use of content. Internet users are looking for one of two things:
Entertainment
Information
Suppose you can deliver both, the better. Content marketing is the most popular method with one of the best results. Not to forget, it's free and gets you organic traffic. To improve your ranking on SERPs, you need a lot of content on your website.
This can be achieved by having a blog page on your corporate site. The blog page holds posts regarding your service or products. If you sell male grooming products like beard shaving creams, you can blog about how to use the cream effectively, tell your readers about the importance of shaving the beard, and give them various tips on different posts.
We mentioned that sharing information shows that you have extensive knowledge in your field. Therefore, if a researcher can trust your tips, then they can trust your product to do the job.
Every post should have a link to your store for the relevant product being discussed. Avoid doing product reviews and focus on giving researchers tips.
Why do blogs matter?
Not everyone is going online to look for products or services to purchase. Some go looking for tips and solutions to their current problems. Be the guy that gives them that.
If someone has an issue at work and is wondering how to file a lawsuit against their employer, they may consider searching that on Google. If your law firm has done a post on that topic, it'll rank, and they'll be directed to your site.
In that post, you mention that you can help them get started on the lawsuit. And that, my friend, is how you land a client!
Like every other digital marketing method, there's an art to writing a good post that converts. Our experts will gladly guide you on that.
To increase engagement on your platforms, have shareable content. Create infographics for each post. Create gifs and memes if you're that type of a business, make high-quality videos, or use caricature. These types of content can easily be shared around social platforms. Have your social media icons on every post to encourage sharing, and for every post you publish on your site, speak of it on your social platforms.
Just like Jay Baer said, "Content is fire. Social media is gasoline." We couldn't agree more!
Many brands are now advertising using influencers who run meme accounts. If that's where your audience lies, then that's where you need to be. You don't have to personally like it because the products are for your consumers, not for you.
Why You Should Hire a Digital Marketing Company in 2022
Congratulations for reading this far into our extensive digital marketing guide. One more tip for your new online business venture – hire a digital marketing company.
While you may be tempted to fly this jet on your own, you may not be able to achieve much as soon as you may need. Every aspect of digital marketing has its complexities. You can take time off and learn about website design and other digital marketing aspects, but it'll take you a couple of months up to a year.
Depending on your learning speed or even availability, you may need more than a year to learn and perfect the skill. This time can be used to upgrade your product or services and put more effort into the core business. That's one reason to hire an expert.
Experts know the industry's ins and outs and will only spend time and money applying only what will work with their long experience.
A digital marketing company also has a large team of experts in different aspects. As your small business grows, you won't need to spend more trying to hire more experts. No. Your expenditure remains the same.
These companies work with the best tools online that you won't have to pay for. Online tools make marketing efforts easy.
Marketing companies run competitor analysis and digital analysis for you. Competitor analysis is where they analyze some of your popular competitors to see what they are doing. In most cases, a competitor's practices will work for you as well, as long as you're selling the same thing.
Digital analysis will be done once you've launched online. It's carried out to see how your marketing efforts are working out for you. With these details, you'll stop some practices and put more effort into the ones that bring conversions or get new ideas.
What To Expect From A Digital Marketing Agency
Every company is different. Some only specialize in one niche, others only in one aspect of DM, and others are diverse.
Our Chicago digital marketing agency offers all services related to digital marketing and can scale your company regardless of your niche. We have experts that have worked in almost every industry hence qualifying them to work for your business.
A digital marketing company will always give you reports on their marketing efforts and advise you on the best way forward. They should have targets and a marketing plan that works well for your small business needs.
How To Vet an Agency
When selecting an agency for your online marketing needs, first inquire about their experience. Having experience means that this expert knows their way around your industry. Having done the same for other clients and came out successful increases your chances of success. Less or no experience doesn't necessarily mean that they will fail you; it's just safer to go for an agency with a few years of experience.
The next step is to ask about their numbers. To find out how well their efforts with other clients have been, request some analytics of proof. A good agency keeps a record of their achievements with them. For web design companies, you can request a portfolio of the websites they have developed.
As if that's not enough, how about some more evidence? Ask for testimonials or reviews. In case you can't find testimonials on their website, ask them to show you the websites and social media accounts they've worked on. You may also get reviews on websites like Yelp or Google reviews. Aside from that, check their social media for testimonial posts or positive reviews in their post comments.
Their blog page. This is not a common place to check when planning to hire a digital marketing agency. However, it's one of the places where the company's expertise is showcased. If the company is sharing some good advice on online marketing practices, then trust that they are good at their game.
What services do they offer? Ensure that they can provide you with a complete digital marketing package since you are starting from scratch. Also, have them send you a breakdown of the budget/cost and learn about their payment policies. Confirm with them that there are no hidden charges and sign a project contract before working with them.
Every project should have a marketing plan and set deadlines. These details will help you keep track of what the agency is doing. Chicago Web Factory works with transparency and integrity.
Custom Web Design and Digital Marketing Services
Are you ready to launch your brick-and-mortar business online? Our experts are ready to guide you through this intensive process. We'd like to take away the hurdles and allow you to enjoy the perks of being an online business.
Help your business achieve its marketing goals by hiring the top Chicago digital marketing agency. Contact us today for a free consultation for your project.
Contact Us for Chicago Digital Marketing